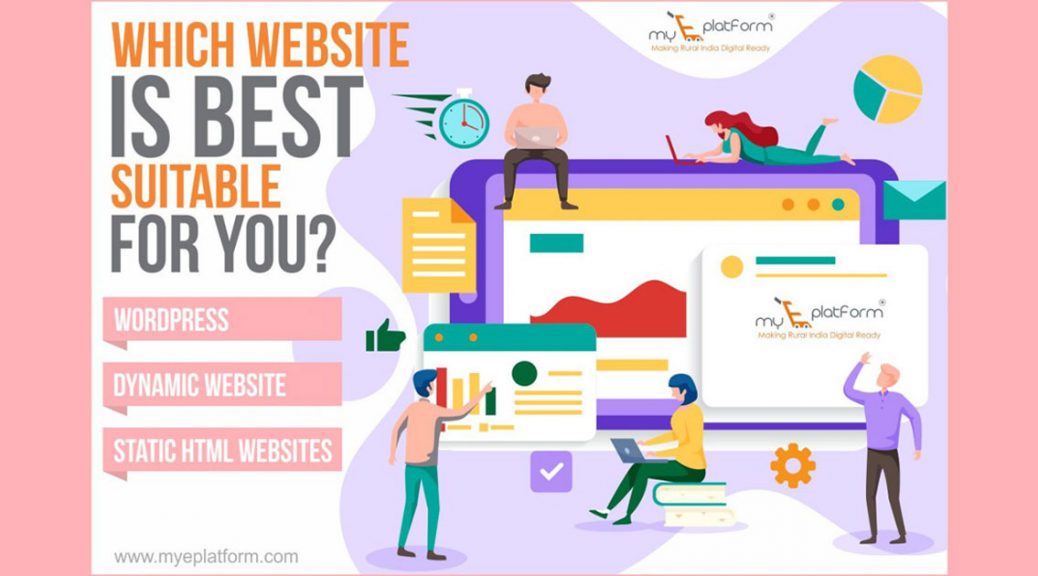 Which Website Is Best Suitable For You?
A website is today's necessity for a business, may it be a smaller one or a bigger one. A business without a website, clearly loses multiple opportunities to grow, because a web, of course, has a wider reach as compared to any other form of marketing or advertising. Even if the people have heard enough about you, they want to do an online research first which is when a bad impression is created if you don't have a website. By building your website, you are telling your audience that they can trust you. Your website is going to be available for 24×7 which is going to help your customers to get to know about your business and upcoming products at any hour of the day. A website is just a one – time investment which is going to give you benefits the whole life.
Now, let us see which website platform is best for you. First of all, you need to be clear about your requirements. That is, do you need a dynamic website? Or Static Website?
A static website contains information that does not change. It remains the same, or static, for every viewer of the site. A dynamic website contains information that changes, depending on the viewer, the time of the day, the time zone, the viewer's native language, and other factors.
Are you going to do search engine optimization? Do you want to add content continuously? If anyone of these points included in your requirement list then definitely WordPress is the best option for you. On the other hand, your focus is not on SEO and you just need a static website, then HTML is the one for you. Let us consider the difference between both of them.
WORDPRESS / DYNAMIC WEBSITE:
WordPress is basically a content management system, i.e CMS. CMS is a software that helps you create, manage and modify your content on the website without actually interacting with the code. That is if you want to edit or update your content, then instead of changing your codes like in static HTML websites, you can directly do it by using WordPress editor.
WordPress has complete control over every aspect of your website.
It can be used to build any kind of websites like a social network, ECommerce, membership websites, etc.
It has amazing drag and drops builders.
WordPress is also used to create ,multi-lingual websites.
It is the cheapest website builder in the market.
It is easy to update and add new pages.
It provides you with thousands of ready-made templates.
In WordPress, adding functionality is easier by just installing plugins.
It gives you the full control and ownership of your website.
In WordPress, you can configure important SEO settings as well.
Also, WordPress is certainly going to build your website faster.
It has enhanced portability and security.
It also provides support for fixing errors easily.
STATIC HTML WEBSITES:
HTML basically a markup language used to display web pages, i.e build a static website.
HTML doesn't require your maintenance. Once your website is live, you don't need to install any updates or take backups.
Also, HTML don't need servers and they can run on cheaper servers.
HTML has got no additional features.
Now, based on the above points that we discussed, let us conclude that which website is going to be best suitable for you. If you are very sure that you are never going to want to update your website in future or add any new features to it, then it is very obvious that you need to go for the static HTML website. Because your purpose it only displays your business without any additional features. On the other hand, if you want the whole control over your website, you want to grow your business later on and keep updating it, adding some new features to it, then, by all means, you need to go for the WordPress website. Using WordPress, you can add as many pages as you require anytime without hiring anyone and also can update the content on your own.
To know more about websites and to build one for yourself, contact us or email us so that we can serve you in the best possible way.