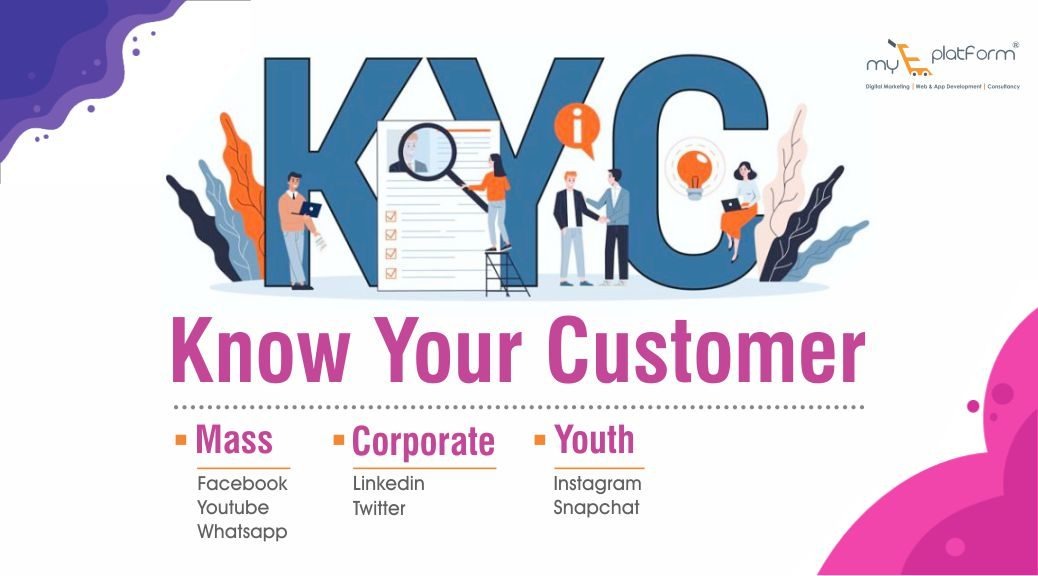 Know Your Customer for Digital Marketing
KNOW YOUR CUSTOMER ?. These are the fraternity who is going to help you grow your business. For any kind of business, before providing your service or even before selling your product, it is very necessary to make a note of what your customer wants or from which niche is your customer from.
Whenever you are creating your marketing content, and strategies to promote your brand, it is straightforward to get carried away with creative elements in which most of the times, your clients need and their expectation is neglected. But your customers are only the fraternity that you work for.
Also, you need to track the behavior of your audience on digital platforms. Their tastes and preferences are something that will help you to track down the right audience.
Successful business owners understand what their customers actually want and the most effective way of making their product or service available.
Which is why, knowing their desires first, shall only be your first priority, before planning any marketing strategies. You need to connect with them, engage with them, to know their basic desires.
Knowing your customer is a crucial thing because it is very important to know that all digital marketing tactics are not going to work hastily for everyone.
For some industries, based in some particular region, Facebook ads will work. For some Instagram shall work, whereas, for others, Google Ads shall work.
I shall give some examples of the live case studies that we have worked 0n and also the platforms that are available to advertise your product or service.
FACEBOOK
Facebook is the most commonly used social media platform in India today. Which is why, if your customer wants to reach a mass public from Tier 3 cities and the rural cities, from middle age or elder than that, then in that particular case, you can focus on particularly this platform.
INSTAGRAM
Instagram, another commonly used platform among the youth of India. Well, in this case, if your target audience is the female group and of the age below 35 and if your products or services are related to cosmetics, training, gadgets, or maybe fashion, then Instagram shall do wonders for you.
OK CUPID OR TINDER
Well, this platform is for lovers. Any niche related to weddings, wedding industry or maybe personalized gifts or something related to decorations and stuff can be concentrated on this platform.
LINKEDIN
An extremely professional platform, where you will find manufacturers, MNCs, Corporates, Industry experts, Job seekers, Job providers, Students, H.R Managers. So if your products are related to these fraternities, then definitely, LinkedIn is for you.
TWITTER
A huge microblogging system where people can tweet any kind of announcements and also can follow others and read their tweets. All the VIPs, urban public, Govt Agencies, MNCs can be tracked on this platform.
This is why it is very necessary to know your customer thoroughly and make a note of minute details about their business, only then you will be able to plan the appropriate Digital Marketing strategy for them.