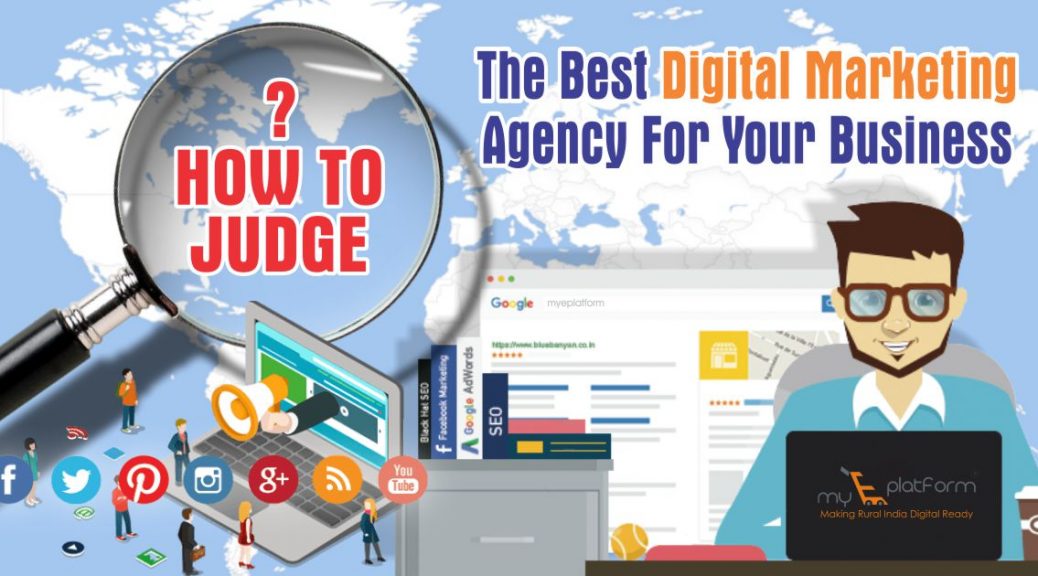 How To Judge The Best Digital Marketing Agency For Your Business
Digital Marketing is something that has now become crucial to growing the business of all sizes. Many a time you decide to undergo all the digital marketing activities yourself, but then make sure that you know all the technicalities of it. Because a single mistake in your marketing plan or in your marketing activities can prove to make a huge difference in your business growth. This is why, I will always suggest you hire an external agency, who actually has their expertise in this field, which will definitely make a difference in your business growth. Now, when you decide to hire an external agency, you realize that there are a lot of them. The very first question arises to your mind is that among all those, which one is going to be the most suitable for you. So, in this blog, I will be telling you the basic points that you need to consider before hiring any external digital marketing agency.
1. HIRING A FREELANCER OR AN AGENCY
Well, hiring an individual Freelancer has its own pros and cons. If you are going to hire an individual Freelancer, then, of course, he/she is going to be a lot cheaper than the agency. But is that it? It comes with the number of cons along with it –
They won't give you any quality assurance.
Since your freelancer is going to be an individual, he will be handling a number of clients, which is why it is quite possible that your tasks are not going to be completed in the provided deadline.
There won't be any stability. Also, you will have to hire a new freelancer, every time you need one for the new project.
Freelancers are good for short term projects only.
You can't guarantee the availability of your freelancer as they are a free bird and they can work from anywhere and at any time.
Also, because of being alone, your freelancer is going to have a lot of workload, which is eventually going to affect his/her performance.
2. EXPERIENCE
First of all, know how many years of experience the company has in the field of marketing. Experience in marketing is essential because only then the agency is going to know to plan the best marketing strategy for your business. Try to know for which all sectors the agency has worked, which will eventually help you decide if that agency can work best for you.
3. EXPERTISE
Know what is that agency expert in. Basically, being a jack of all trades but master of none is usually not very helpful. Even if the agency is going to provide all the services to you, make sure that there is expertise for different services which is obviously going to be beneficial for you.
4. COMPANY'S TEAM STRUCTURE
Know how large the company is. See how big there team is and what they are expert in. Choosing a large or small company, both has its own pros and cons. If you select a large company, then it is quite possible that the juniors might work for you who are not that experienced yet. On the other hand, if you choose a small company, the experienced person might work for you but you are not sure that you will get all the services in one place. Analyzing the team structure is important because having a specific team member for each activity means that they are going to be expert in that specific field.
5. SUCCESS & FAILURES OF THE COMPANY
Well, success and failures are part of all the businesses. Before hiring any external marketing agency, study their previous case studies, try to know their success and failure stories and the reasons behind it. It is quite natural that it is not always possible to have only success. But, if an agency is bragging only about their success stories, then here it is. You should realize that there is something fishy.
6. STABILITY
See how stable the company is. Know how established the company is. Stability is an important aspect to consider because only then you can be sure that the company is going to be available for you anytime you need them.
7. R & D CAPACITY
Check whether the company has a good R & D capacity. Google Algorithms are very fluctuating, which is why it is very important that your digital marketer stays updated with all those algorithms and also is keen to always find new ways to strategize your digital marketing.
8. CLIENTELE
Notice the client list of the company. Also, check out which sectors the clients are from. Sometimes, if necessary, you can also talk to some of them for feedback about the company's work and their results. Checking out testimonials should always be your priority before hiring any agency.
9. QUALIFICATION & CERTIFICATIONS
The qualification of the person that you are hiring for your business is equally important to know. See what certifications they carry. For instance, if they have Google certification or no. That usually gives you an idea about how well can he work for your business. Because his qualification gives us a rough idea about the knowledge that he carries and what is he going to implement on your business.
10. SELF PRESENCE ON DIGITAL PLATFORMS
Checking out the self-presence of the company on digital platforms is most important. Imagine you are searching for a digital marketing agency on Google, then obviously you would not prefer the agency that is listed on the next page of the SERP. Because, logically anyone would think that if a digital marketing agency couldn't do its best for its own self, then how could that company do any good for others. Thus, all these points are definitely going to help you, the next time when you plan for hiring a Digital Marketing Agency.