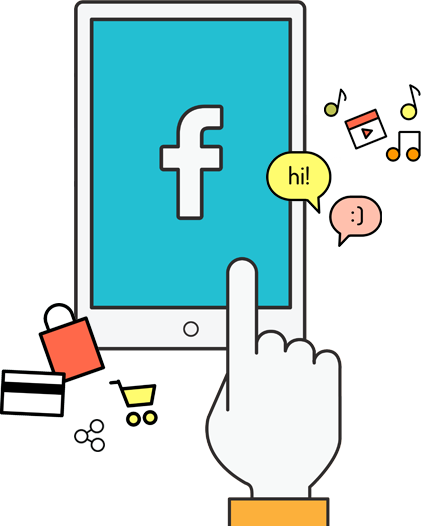 Facebook marketing in recent years has become popular. Facebook is the best channel for advertising. There are over 1 billion active users, and 50% of those users are logging into their accounts every day. Furthermore, it has become an important communication platform that businesses can utilize and optimize to promote their brand.
Facebook Marketing allows Facebook users to sign up for different websites and access exclusive promotions. This can be achieved by logging in with their existing Facebook account details. Thus, it becomes beneficial to users as they don't have to create a new login every time they want to sign up to a website. In addition, it also becomes beneficial to businesses as Facebook users become more likely to share their content. thus allows advertisers to determine how to best market themselves to users so that they will be interested in their product. Additionally, the amount of businesses that use Facebook marketing platform to advertise also holds significant relevance.
This demonstrates the impact that social media marketing has had on the current digital marketing era. We also use different Social media like Twitter marketing, Blogs, Effective Content Marketing, Youtube marketing. As well as we do SEO for Websites and Google Ads.
Facebook Marketing
Facebook Marketing Strategies to increase reach on Facebook
To improve the effectiveness of posts, by adjusting the length and timing of posts. This influences the number of likes and comments it receives.
To Increase the network size, by analyzing user behavior. This is used to determine how often to post and what type of content to post.

Buying more reach, by paying Facebook to advertise a post.
Benefits of Facebook
Facebook Marketing has following benefits
Brand awareness
Facebook is one of the largest social media platforms in the world. Your business' presence will help you gain exposure to potential customers.
Targeted advertising
Facebook advertising allows you to target very specific demographics, based on location, age, gender, and interests.
Customer feedback
Facebook allows two-way communication between businesses and their customers. You can thus use the messaging service to deal directly with your customers. Similarly, reviews and comments can be a great way to gather customer feedback and find areas for improvement.
Template Design
Our professionally designed templates include easy-to-customize layouts with photos and artwork. We design templates to attract the Facebook audience.
Monitor and improve
Use data from your page's 'Facebook Insights' to understand what content works best and plan for the future.
Generate business leads
Your audience of Facebook 'likes' can be a great starting point to gather leads. Moreover, you can use competitions to gather email address to build marketing lists. We run Facebook ads to get more likes and traffic. Facebook marketing lets you target audiences based on their interests, gender, location.