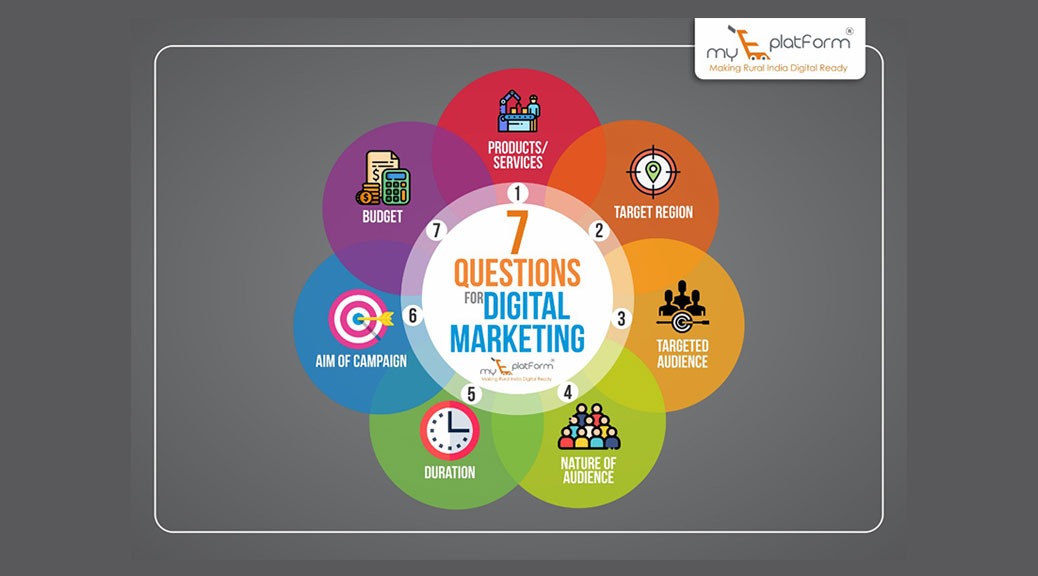 Digital Marketing Strategy – 7 Questions To Consider Before Planning Strategy
Well! Digital Marketing, is the trendiest and most effective way of marketing, people are trying to make the best use of it. But it is quite natural, that everyone is not really aware of all the methods of digital marketing and their results. Which is why, it is very important for you to get engaged with an external agency like us , who will help you to plan the best digital marketing strategy for your business, by knowing your budget and requirement. Before planning any kind of marketing strategy, you need to know about the following 7 questions.
1. PRODUCTS/SERVICES:
Before planning any strategy for you, we try to study what your products are or what kind of services you provide. Basically, we try to understand your whole business deeply. We try to know what your products are, i.e is it E-Commerce based? Or do you provide any kind of services? Are you a consultancy or a doctor or maybe a manufacturer? We do a proper background check and only then we suggest a suitable marketing strategy for your business.
2. TARGET REGION:
It is very important for us to know where is your target audience. That is, from which area they belong to. This will eventually help us to pin-point the target region geographically. It differs from business to business. We can generate leads from even 1km target area.
3. TARGET AUDIENCE:
Target Audience is another aspect, which is really essential to note before planning your best suitable strategy. It means that we need to know about your client base, that is which sector your audience is from. Your target audience can be patients, local public, doctors, farmers, manufacturers, dealers, etc. This data is necessary for more effective campaigns.
4. NATURE OF AUDIENCE:
What is the nature of your audience? An important question to be dealt with. There can be two kinds of audiences, i.e B2B or B2C. Which means, does your business deal with bulk buyers or the end customer. This is a vital factor while planning a strategy because the nature of audience changes, their search trend changes too and we need to stay updated with the user behavior.
5. DURATION:
Tenure of your marketing activities is really important to be known, which will help us to decide which platform is best suited for your business in the given time limit.
6. AIM OF CAMPAIGN:
Before running any campaign, the aim of the campaign should be understood. Campaigns can be run for two reasons. One is for Brand Awareness and the other is for Lead generation. If your requirement is of Brand Awareness, then we need to run campaigns of Youtube Ads and Display Ads. And if you need Lead generations then text ads and shopping ads shall be best suitable for you.
7. BUDGET Allocation for Digital Marketing Strategy:
Whenever it comes to invest in anything, the budget is the biggest hurdle. Digital Marketing strategy are available for all kinds of budget limit. It is very true that 100rs per day is also enough and 10,000rs is also less. We understand your budget capacity and consult you with the best suitable marketing strategy.